Visit Lentor Hills Residences Showflat & Enjoy VVIP Discount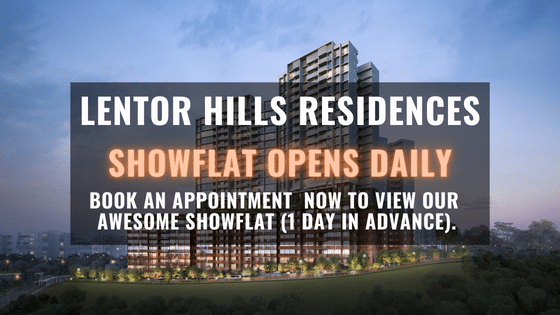 Book A Showflat Appointment With US Now. (1 Day Advance Notice)
Lentor Hills Residences Showflat Opening Hours
Daily : 10am 6pm (By Appointment Only)

If you are keen to pay a visit to our Lentor Hills Residences showflat, you are advised to book an appointment in advance with us. No walk-in will be entertained.
Periodically, Lentor Hills Residences showroom is closed either for thorough cleaning, maintenance or due to private events. Therefore to avoid disappointment, you are strongly encouraged to check for showflat availability before heading down.
Parking space is limited at the showflat. Kindly source for alternative once the parking are full.
To make an appointment to visit Lentor Hills Residences showroom, you can either call our showflat hotline at +65 6100 1116 or fill up the appointment form via this portal. One of our appointed salespersons will reach out to you shortly to confirm the appointment made.
Travel Guide to Lentor Hills Residence Showroom
Lentor Hills Residences showroom can be found along Lentor Hills Road. Whether you are exploring this new development as a prospective buyer or just curious, this comprehensive guide provides travel directions on how to reach its showflat via public bus, MRT (Mass Rapid Transit) and private transport options.
Public buses offer an economical and accessible mode of transport. Start by finding the nearest bus stop to your current location.
Utilize public transport apps or the TransitLink website for accurate bus schedules and routes. The nearest bus stop from Lentor Hills Residences showroom is along Yio Chu Kang Road. The available bus numbers are 855, 163, and 265.
Enjoy your journey, keeping an eye out for landmarks and announcements to ensure that you arrive at the appropriate stop. If unsure, feel free to ask the bus driver for assistance.
Once at a designated bus stop, use an accurate navigation app to find Lentor Hills Residences showflat along Lentor Hills Road.
Thanks to Singapore's efficient MRT system, Lentor Hills Residences showflat is easily and comfortably reached.
Plan your journey and alight at Lentor MRT station, the nearest MRT station to the showroom.
As soon as you exit the station, utilize your navigation app for accurate directions to Lentor Hills Residences showflat. If needed, don't hesitate to ask station staff for help.
Private transportation provides flexibility and convenience. Simply set your navigation system or GPS to guide you directly to Lentor Hills Road in Singapore while considering nearby expressways such as CTE and TPE for optimal navigation.
Continue down Yio Chu Kang Road until reaching Lentor Hills Road. Follow its road signs until reaching Lentor Hills Residences showflat.